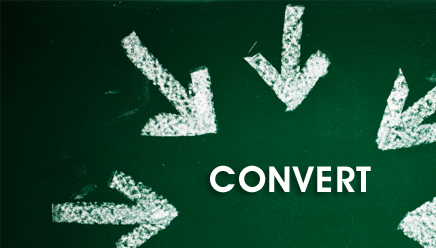 As a marketer, your website is the most important lead generation tool you have. Successful online lead generation programs are all about taking the visitors that come to your website and converting them into leads.
You can spend a lot of time online re-designing your website, conducting user-testing and creating a lot of activity, but without any conversion tactics or assets you wont generate any leads or sales.
Landing Pages
Landing Pages are critical to the success of an inbound marketing campaign. These optimised pages are designed for one thing, and one thing only--to convert website visitors to leads. The landing page is where the offer is fulfilled and where the prospect completes a form so that you can begin a conversation with them.
Landing pages must be clean and clear with one offer only. The landing page must also be consistent with the call to action button, email, or advertising that drove the visitor to the page. It needs to be completely obvious and relevant to ensure that the conversion process from visitor to lead is as streamlined as possible.
Calls to Action
Calls-to-action tell a visitor what to do next, and in the context of inbound marketing they are the hyperlinked buttons or text that take a user from the content they were viewing to a landing page to start the visitor-to-lead conversion process. They can also be used to drive traffic to registration pages for upcoming events and various campaigns.
Calls-to-action should be placed all throughout your website, including at the end of blog posts. They can also be used in emails, presentations, videos and social media platforms. No matter where they're placed, they should be easily distinguished from the surrounding content and should offer a clear idea of what the offer is.
Email Marketing
The death of email marketing has been widely pronounced, but couldn't be further from the truth. Email Marketing is an effective, inexpensive lead generation tool that is a critical element of any marketing strategy. Email marketing can play an important role in achieving a wide range of marketing objectives, from the very tactical objectives of increasing web site traffic and driving sales to the more strategic objective of building awareness. Plus, when integrated with social media, email marketing's relevance and value is more vital than ever before to the success of your marketing programs.
BRIGHT can help you define your email marketing objectives, design your email templates, write your content and put a system in place to execute and measure your campaigns. Our email marketing system provides sophisticated email marketing at a very reasonable, pay-as-you-go price. There are no monthly fees; you only pay when you send a campaign. Contact us for your free trial.
Lead Nurturing
The vast majority of people who come to your website and download a piece of content are not instantly ready to become customers. This is where a structured lead nurturing campaign is essential to help develop a longer-term relationship with that lead. A series of sequential emails with more targeted and relevant content can build trust with the prospect and further qualify them in the process. Ensuring the content of the email is valuable and extremely pertinent to the topic the lead converted on is crucial.
BRIGHT can help you map out a lead nurturing process, test your campaign, implement your campaign, measure the results and optimise as needed.
Marketing Automation
To execute all of these activities effectively, you need a marketing automation solution that will allow you to create and A/B test landing pages, calls to action and emails. A solution that will also provide you with lead nurturing tools so that you can schedule a series of triggered emails based on activity on a specific landing page. Without this technology in place, it's nearly impossible to efficiently run a sophisticated online marketing strategy.
Best practices in marketing automation also put the customer and the insights you know about them front and centre. A well-run campaign should provide leads with interesting and relevant content when they need it and hide content they've already interacted with.
BRIGHT can help ensure your marketing automation provides leads and customers with exactly what they need and nothing more. The output should be interesting, relevant, and useful. One of the biggest errors with marketing automation tools has to do with the content strategy, not the tool itself. Without smart, tailored, useful content – marketing automation is just an intelligent spamming tool.