Download your copy today and learn how to set-up your inbound marketing for success.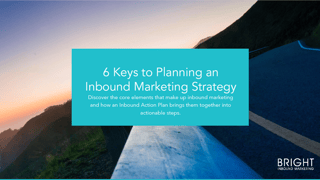 Inbound Marketing can be complicated. There are a number of inter-linked elements that, when combined together, deliver optimal results. But miss a step, and it could be the opposite.
This ebook illustrates six strategic steps to producing a stellar inbound marketing campaign. From identifying your key buyers, to optimising visit to lead conversion, we've got a whole lineup of proven success factors to ensure your customers love your campaign.
In this ebook, you'll learn:
The characteristics of a good marketing campaign
How to develop compelling marketing offers
How to use workflows to make your new leads sales-ready
Which metrics you should use to measure campaign success
Discover the core elements that make up inbound marketing and how an Action Plan can bring them together in easy to follow steps.