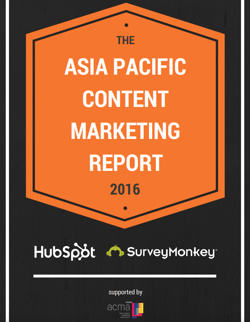 Last week Hubspot and SurveyMonkey released their first Asia Pacific Content Marketing report. In it they surveyed over 700 marketers in Asia, Australia and New Zealand to establish the state of content marketing in the APAC region, so that content marketers have some local data to benchmark their marketing efforts.
Creating local content like this is an excellent content marketing strategy, so hat tip to Hubspot, I expect no less. These types of reports are a great way to stamp your thought leadership on a segment, plus multiple other content assets can be spun-off this report. You could do an infographic, a webinar, several blog articles, and social media post and then also re-do the survey in subsequent years, turning it into a regular piece of content. So, while this report is excellent content strategy, what I really want to highlight in this article is some of the findings.
There were some very positive findings in this report
Content marketing is widely used in APAC. Hooray!

Content marketing is the tactic with the biggest commercial impact on businesses. High five!

63% of businesses are planning to create more content in 2016. Showers of confetti!
However digging further into the report I uncovered this gem,
"68% of marketers use website traffic as the way to assess the effectiveness of content marketing"
… and this one
"Only 46% use ROI as the measure of effectiveness."
Wait…what the?
I understand, measuring ROI on any marketing is HARD, but content marketing programs out of all marketing activity, really have the best shot of being able to tie marketing activity back to sales, simply by the nature of the program… I mean it's not a billboard...and don't get me started on banner ads.
So why is this? Why aren't marketers measuring ROI and what does that mean for ongoing content marketing success? I've been thinking about this over the last few days and have come up with the following reasons why it may be the case that website traffic is the leading effectiveness metric.
Just getting started with content marketing
When an organisation starts out with content marketing they may have not set any concrete lead generation goals that are aligned to the program. It could be all about "thought leadership" and "awareness" which is awesome, but very difficult to really gauge it's effectiveness. Early stage content marketing programs, may not be much more than a few blog articles and social media updates or can be just about "proving the concept", getting a piece of content up, driving some traffic, converting it into "leads" without really looking at whether the content asset is helpful or useful for the market, whether it's the right piece of content at the right time in the buying journey.
Longer-term programs focus on the buyer personas, think through the entire buyers journey, and create content that aligns to that journey, answering all the tricky questions along the way. It is not about your latest product release, feature set or where you placed on the Gartner Magic Quadrant… it's about answering your customers' questions, not just publishing whatever's available.
Haven't invested in the technology to measure more effectively
You cannot execute a content marketing program without technology. PERIOD. As a minimum, you need a blog, landing pages with forms, social media publishing, emailing and reporting. Plus it needs to be technology that's easily usable by the marketing team… not the IT team or even an outsourced agency. The marketing team needs to be able to publish blog articles, create landing pages, create forms, scheduled social media updates and most importantly review the results in real time and make adjustments on the fly, not months later…or when the IT team can schedule it in. Ideally an all-in-one marketing system is best; otherwise you spend all your time holding the Frankensystem together and less on creation, execution and analysis.
No need for accountability
And this one may be contentious… but could be true… perhaps marketers don't want the accountability that comes with being aligned with sales. Is it easier to point fingers say that the sales team are useless and don't follow up with the leads, and vice versa for the sales team to say that marketing doesn't do anything useful apart from arranging events and tradeshows. Is it easier to just accept the status quo, rather than jointly, as sales and marketing teams, with a single goal of increasing company revenue, actually work together on creating content that buyers actually want, defining what a good lead looks like, and agree on a follow up process that approaches inbound leads correctly (i.e. softly) but also doesn't just dismiss leads that aren't ready to buy right now. Shouldn't this be the end goal?
So what are your thoughts? Am I way off or do you also see the same issues when it comes to accurately measuring the success of content marketing programs and ensuring the long term viability of the work for the sake of future company success.