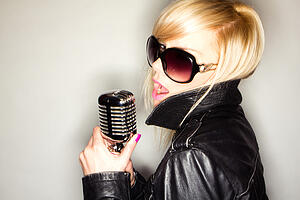 Where to start? My journey, as it's all about "the journey" sorry I digress I've been watching too much of The Voice, to becoming a sales rock star. I started working with Rick Roberge at the end of last year. I needed a bit of guidance and a fresh perspective on the business I've been building for the last 5 1/2 years.

I found Rick through the HubSpot partner forum, where he is often found taking contrary positions, fanning the flames of discussions and being engaging and thought provoking. As I subsequently learnt one of his favourite mantras is "if you're not having fun, you're doing it wrong" and to be honest I wasn't having much fun last year.
Why Rick?
Even though his approach can seem abrasive, I didn't have a problem with it. You see, even if you don't like Rick, the best testament to his approach is to look to those he's coached, like Pete Captua and Jeetu Mahtani, who I hold in very high regard. They both speak highly of Rick and so I took the plunge.
I was skeptical of business coaches, particularly those who don't know your industry. I thought they were full off fluffy advice and tactics not related to the reality of your business. I need some practical, hands on help. Rick proved to be more than a sales coach, he got into the nitty-gritty details of my business, coaching me one-on-one for meetings, drafting emails, reviewing plans. He taught me things about inbound marketing and social media that I hadn't thought of before - simple things like, before you share a blog article make sure you comment on it first, how to use LinkedIn in a non salesy way.
The need for approval is strong in this one...
We did an assessment of my sales skills and found that there were a number of areas to work on. I was well liked by prospects and customers, but my need for approval was strong so that I wouldn't ask more "difficult " questions.
Need for approval is something that everyone has to varying degrees, but being aware of this allows you to step back and look at the situation without emotion and ask the hard questions. I don't think I've overcome this, but at least I'm aware of it now in the moment.
I have pages and pages of notes from our sessions, but these are the things that I remember most and have had a big impact on myself and the business.
Being selective
One of the most liberating things that happened was around being selective with clients. I learnt how to be on the same side as your prospect and work with them through the process so that they become good clients. The essence of this is truly believing it's your job to help them, not to sell them, as Jay Baer says there are only two letters different between helping and selling. Always be helping. Never be pushy.
Closing deals
I had the notion that a sales coach would be all about pushy "closing techniques" and tricky ways of manipulating people, hence the concern about working with a sales coach. Rick did not turn me into a pushy sales person, quite the opposite. I do have to own the responsiblity of managing a pipeline, but the best way to close a deal is to have another deal in the pipeline.
Choose your words wisely & be curious
The language you use is very important and the tone. Also the way of communicating. If a prospects contacts you via email, respond via email, via phone - respond via phone. Don't feel that you have to call everyone, wait for the right time to have a phone conversation. A well timed email can do wonders, even if you feel it may be inappropriate. Ask lots of questions, be curious, ask questions even if you know the answer. Don't immediately jump to the solution to your customers problems, let them tell you what the solution is by asking lots of questions.
Don't send contracts
I've eliminated contracts and proposals. The documents that are produced along the way become a blueprint for action that continues to be referred to for the life of the project. I now work on a retainer and my clients pay monthly upfront and we continue working. I now stop work if the invoice isn't paid on time.
Worth it?
Working with Rick revolutionised my business and the way I approach it. I no longer feel apologetic that I'm something I'm not. My clients are happy and that's all that matters. I won't be the right fit for every client and that's OK. Being selective about which clients you work with is incredibly empowering.

Since working with Rick I have signed good new clients and am having many more conversations that may lead to more good clients.

So if you can leave your ego at the door and are open to being challenged about the very core of your business then I highly recommend working with Rick. I consider him a friend as well as mentor now, and am looking forward to meeting him face to face and sharing a red wine or three at Inbound 2014. I wouldn't consider myself a sales rock-star, but a work in progress.