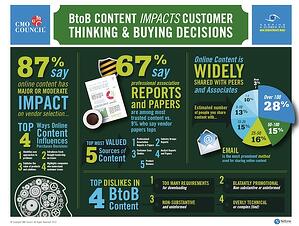 For anyone involved with B2B marketing it's not earth-shattering news to hear that the way that people buy has fundamentally changed. Increasingly buyers are researching solutions long before they want to talk to sales person. If buyers are going to pursue knowledge about your business's offerings, wouldn't it be great if they actually came to you to for the information? Businesses are shifting their marketing strategy to be more content-focused, but a B2B content marketing report by the CMO Council indicates that buyer-friendly content still isn't being produced or set into motion effectively.
Marketers might be alarmed to learn that only 9% of the 400 B2B buyers and content seekers surveyed consider vendor content to be a reliable source of information. Instead, buyers turn to third parties like professional associations and industry groups for what they consider to be more credible insights. Old habits of promotional verbiage and product-centric hype are dying hard in the marketing world as businesses jump to churn out more content without applying a customer-centric strategy.
CMO Council's research indicates the extent to which your website serves as a proving ground for your business, with 87% of surveyed respondents stating that online content plays a major to moderate role in vendor selection. Great, so buyers are considering your online content as a source of information - they're just not really liking what they see. According to CMO Council, the problem with B2B vendor websites is that they "lack the depth, objectivity and strategic context that buyers are seeking to inform and lead them through complex evaluation and purchasing processes. The survey shows that the characteristics buyers most value in B2B content are:
Breadth and depth of information, 47%
Ease of access, understanding and readability, 44%
Originality of thinking and ideas, 39%
CMO Council asserts that there are more buyers involved in the B2B purchasing process than ever before, so you have to make sure you've got your bases covered. Create content for each audience type and refer back to your buyer persona exercises to check for gaps. Content needs to not only offer value to each type of buyer involved in the purchasing process, it needs to be packaged up in ways that appeal to a broad set of consumption preferences. Engage with infographic summaries; dazzle with multimedia versions. Creating mobile and tablet versions is no longer an optional endeavour for businesses who want content to remain accessible in the face of a growing on-the-go audience.
Aside from overly promotional content and weak information, what should B2B marketers make sure they avoid when putting content online? CMO Council found the biggest pet peeve of B2B buyers is too many requirements for information download. Researching an offering can be taxing and people are busy, so keep your landing page forms short and sweet to avoid putting your eager prospect in a bad mood before you attempt to impress them with your content assets. Request only the basics, like name, email and maybe phone number. You won't need to ask them for their mailing address once you've got your content optimised because they'll be knocking on your door.
For more information check out the CMO Council's infographic summarising the report or if you are interested in getting started mapping your content assets to the B2B Buyers Journey, download our template here.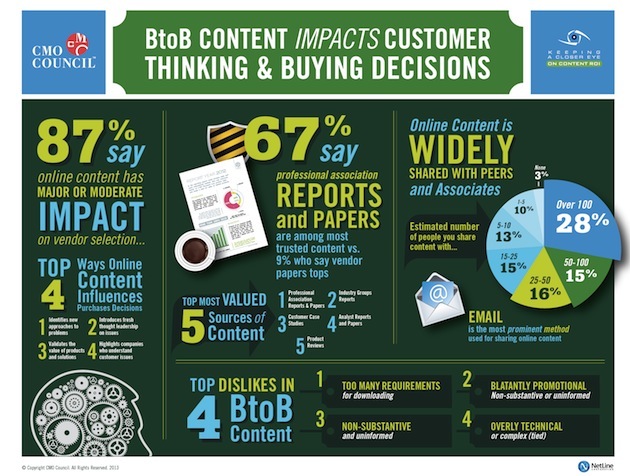 Source: B2B Marketing Insider