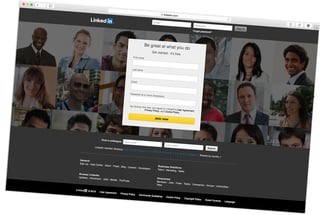 Any marketer worth her salt knows that reach is nothing without engagement, and that there is the problem with most social media - despite their reach, they're not very good at prompting clicks for B2B. For B2B lead generation you need a platform that provides information about people's professional lives. In short, you need LinkedIn.
LinkedIn excels as a tool for targeting people according to location, industry, skills, and work-related groups. In fact, it's one of the best paid social channels for B2B lead generation. We're so convinced of this, that we have created a short how-to article on the topic.
First, identify your most valuable personas
Typically, in complex B2B buying decisions there's more than one person involved, and while you may have established relationships with one group of professionals, you might struggle to reach others. Take an IT company for example. In our experience, it's not difficult to reach the tech people at the heart of the IT department. However, they're not usually the one's who have the final say when it comes to purchasing and there's usually more than one person involved in the decision making process.
We've had to identify these previously unknown decision makers – people we knew little about at the time – and develop personas for them. It's only when you know all the influencers in an complex buying decision, and you understand that they all have different agendas, that you can begin to develop an effective B2B lead generation strategy.
Create content for those personas
To flesh out your personas properly, you need to learn their content preferences, their interests, and their concerns. LinkedIn is an incredible tool for conducting such research. Treat it as an earpiece to industry secrets, and you'll gain insights that allow you to create content that speaks directly to your personas' pain points.
Promote that content
This is where the wheels usually fall off. Because you don't have the contact details of your potential customers, you might be tempted to buy a list and send them some spammy emails. But this is not only expensive, but a not very effective strategy. No one likes receiving unwanted and possibly irrelevant emails. The bounce rates and open rates would be terrible and at worst your email domain would be marked as a spammer.
In this case, it would be better to distribute your content with some sponsored LinkedIn updates, or using LinkedIn Inmails to send your content straight to the people who need to read it. By putting your content in front of interested readers, you ensure both impressive engagement rates and enviable ROI from your B2B lead generation efforts.
5 tips to optimise your LinkedIn Sponsored Updates for greater impact
Like any platform, LinkedIn can be made even more effective if you follow a few best practices:

Granularly segment your targets - even down to the skill level

Keep the updates fresh and relevant

Use large, relevant graphics

Put the content link after the first sentence

Post at optimal times
Of course, there is much more to LinkedIn's potential as a marketing tool than can be included in this blog. If you are new to social selling or you would like to learn more about how to use LinkedIn for targeted lead generation, download our guide: LinkedIn the Inbound Way..