I'm lucky enough to live by the beach in Sydney, Australia. I've grown up swimming in the surf, and have a healthy respect for the ocean, but, a sign like this gives me pause.. Should I risk swimming with the sharks or will I get eaten alive?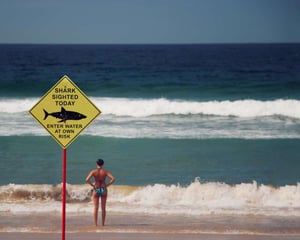 While deciding what marketing automation software to use is not a life or death decision, it is still a serious decision for most companies and one that should not be taken lightly. Switching your marketing to an inbound approach takes mindset change, content, a website optimised for conversion and the technology platform to bring it all together.
Image source: Photo by Lubo Minar on Unsplash
In my daily work I get asked a lot about inbound marketing… no surprises there, given I'm a HubSpot partner. Will it work for my business? How much time does it take? What are the costs involved? While I'm a firm believer in HubSpot and inbound marketing, it's not the right solution for every business. At a high level, there are a few key things that make HubSpot stand out from its competition, beyond a feature/function comparison, and these are the elements that I come back to when recommending marketing automation solutions.
All in one nature of HubSpot, from social to contacts db to website to CRM to customer service. Having everything in-the-one system is a game changer for most companies. If you've ever tried to do what HubSpot does with a WordPress site and plug-ins, you'll appreciate the all-in-one nature of HubSpot. The visibility of a customer's journey from being a visitor to a customer and beyond makes so much sense and is something that's very difficult to accomplish by sticking multiple solutions together.
Ease of use. HubSpot is designed for the end user who will actually be in the system using it every day. If you've ever used one of the "enterprise" marketing automation systems, then HubSpot is a dream. The user interface is so intuitive you really can't go wrong, and you definitely don't have to outsource to an agency to build a landing page, or send an email. It's so easy to figure out, that you may not even need the training and support.. But if you do then..
Customer support is excellent. At worst they reply to an email in a business day, but typically you'll get a phone call back in 5 minutes, or an immediate reply in the chat window. Outstanding.
HubSpot Academy training is beyond comprehensive and I'm constantly recommending the certification programs to any one that needs to up-skill on modern marketing techniques - whether they end up using HubSpot or not.
So far, so good. But, what's it really like? To give you further insight, beyond my own experience, I've pulled together a few other resources for you to make your own decisions. I've included reviews on the HubSpot website (bound to be positive) as well as reviews from actual users in organisations that have implemented it (who share the good as well as the bad). I hope you find these reviews helpful as you consider whether inbound and HubSpot is right for you.
If you'd like to just cut to the chase and have a non-salesy conversation about HubSpot with another marketer, you can do that here.
G2 Crowd - is a great source of product reviews as they come from people who actually use the software. HubSpot scores an impressive 4.3 stars from over 3,000 reviews.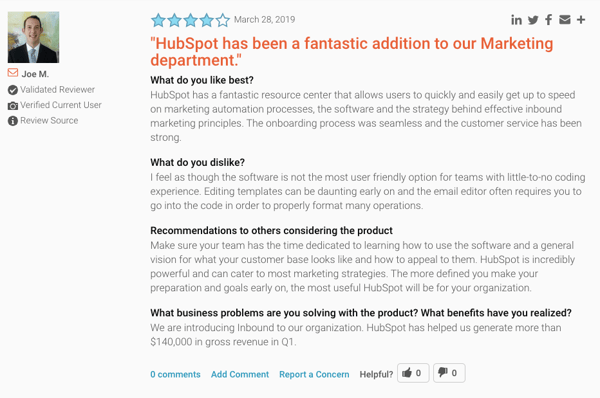 2) TrustRadius - is another review platform, specifically for B2B technology buyers that connects decision-makers with trusted, in-depth insights from real users. There aren't as many HubSpot reviews on this platform than there are on G2 crowd, but it gives an insight into HubSpot as well as the alternative platforms.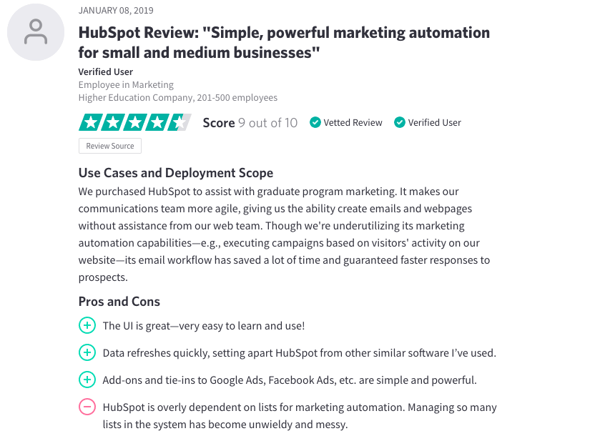 3) Nectafy inbound review - This is one of the most comprehensive reviews of HubSpot and inbound marketing. It was undertaken by a Boston based content agency, Nectafy and covers 5 years of real-world use. They show actual traffic, leads and customer conversion numbers from their website. As well as telling the story of going from newbies to uber-experienced. It's a stellar review and well worth your time. The one caveat I will make is that they are a content agency, so they have the skills and resources to create the necessary content to keep up the momentum that successful inbound marketing requires. Publishing 3 articles a week takes an enormous amount of time, but it certainly demonstrates that, if you put the effort into inbound, then you will be rewarded.
4) HubSpot's case studies directory - While this page will typically only share positive reviews, there are so many and you can sort by industry, region and company size to find an example that matches your own situation.
For example, here's a story from a Melbourne based business consultancy, that "leveraged the old business to build the new one" and used HubSpot as the platform to make that happen. HubSpot was the missing piece of their business strategy that saw them grow their new business into a million dollar revenue stream in a year.
These resources are intended to help you with your decision making, however the only way to really know if you can make it work, is to try it yourself. If you've got some content ready to go and would like to see if you can use it to attract leads and convert them into sales then there are a couple of ways you can get started with $0 fees.
Sign up for HubSpot Marketing free - this will give you pop-up forms to add to your website, a contacts database to show you information on these leads and the ability to send follow up emails.
Sign up for HubSpot CRM free - this integrates with your Gmail and Outlook and provides a no-data-entry CRM. It gives incredible insight into who is interacting with your sales emails and when, and tracks deals in the pipeline, enriches your contact database with company information and even provides a live chat bot.
If you're beyond the capacity of the free tools then I can arrange a free 30 day trial of the full HubSpot professional product. This will allow you to take the whole system for a run, including landing pages, social publishing, workflows, chatbots and more. Simply email me and I'll arrange it for you.
If you have any other questions about inbound or HubSpot, and don't want to be bugged incessantly by the HubSpot sales team, then I'm here to have a sales-free conversation. I know that some salespeople have a tendency to do what's right for them and not necessarily what's right for you. I'm not one of them. I'll tell you what I really think and I've got no interest in selling you something that won't be the right fit. Book a time to chat in my diary here.
Alternatively, if you'd like an inbound review of your existing HubSpot efforts, then I've partnered with Joe from Brand Builder Solutions, another super-experienced HubSpot agency, to do in-depth inbound reviews. You can find out more about that here.
We're not sharks and we promise we won't bite.